Yesterday was my birthday! I filled it with new memories and lived for the present. It was also a day away from the series of blog articles about fathers, but the appreciation for fathers was not far from my mind. My own father is in town right now. For my birthday, we sat on the deck of a restaurant watching athletes swim and run by us, and then we had dinner with my husband. It sure made a weekday birthday fun!
This post is going to be a little different, because it's not about a baby or child I've photographed, or even a photograph I've created. Instead, it's an image a few times removed from the original print, and a little damaged, but it's one with me and my own father! I love this picture because it reminds me so much of my childhood…. the homemade birthday cake, the house I grew up in, and being surrounded by family. It is likely obvious, but in this photo my dad is probably jokingly about to blow out my candles for me. If he wasn't, he was such a jokester at times, I may have been putting my hands up as a preventive measure! My dad was certainly an influence on my current sense of humor.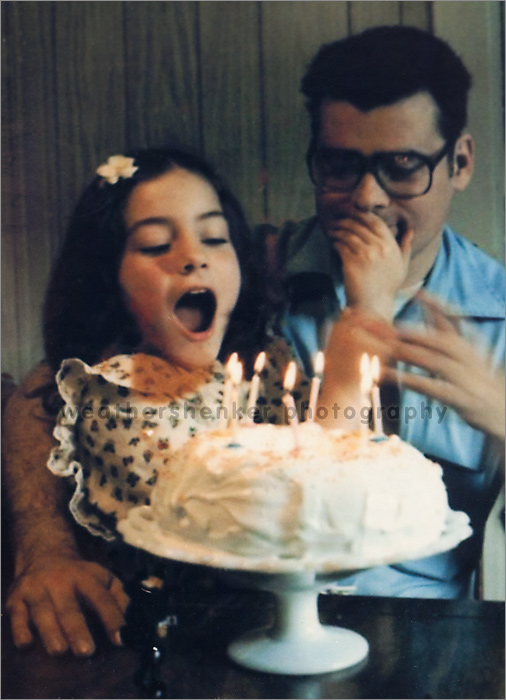 One of my favorite childhood memories involving my father was when he taught me how to ride my bike on my own with no training wheels. He took the wheels off, and held the seat while I pedaled forward on my bicycle. I'm sure I fell quite a few times into the grass after he let go, but eventually I figured it out. I remember being so surprised the first time I pedaled for awhile, stopped, turned my head and discovered my dad was far behind me. I was riding fine without him right there supporting me! Being able to ride a bicycle, having the persistence and patience to keep working at something, and helping others are just a few of wonderful things my father has taught me. I am so grateful that I had a thoughtful and involved father as a child. And as an adult, I've only grown even more appreciative.
– One fortunate daughter